This drop is extra special.
It was a slow burn. Holding on to fabrics until they were ready to speak. Sitting with the ideas. Listening.
Revision, revision, revision. Elimination, elimination, elimination. 
In some respects, it feels like an evolution. I feel different. These pieces are different. 
Meet Beal...
and Ford. 
Beal is cut short for Jennifer Beals, arguably the most notable off-the-shoulder look for her cut sweatshirt in Flashdance. 
Ford is a deviation but still a diva. Tom Ford. Almost always featured in a beautiful tuxedo jacket, this duster called for a tuxedo collar and thus, the name feels fitting. (Not to mention the hours I spent obsessing over Tom and his work as a teenager, years before I ever conceived of having my own creations).  
I first came across this dot fabric on November 1, 2022. A raucous celebration of Día de Muertos was happening in the flower district. 
I don't remember what I was looking for that day but what I stumbled upon wasn't it. But it was yelling at me. Very loudly. 
Anytime I find something of intrigue, I immediately have to unroll the fabric from the roll and begin some weird dance. What am I feeling? How do you feel? Do I see what you want to be? Will "my people" love you as much as I think I do? Hell, it's like bringing your significant other home for the holidays. How's your family going to react?
Mesmerized, I wasn't even sure where to begin and I ran away, photos in hand, unsure of what to make of the insanity.
She was screaming Yayoi Kusama. 
 She was screaming George Clooney in custom Yayoi Kusama from W Magazine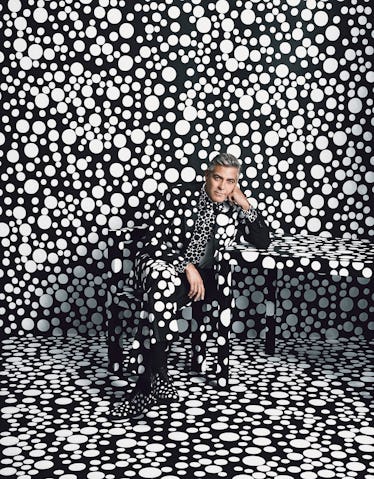 I was screaming on the inside. I couldn't stop thinking about her. I returned almost exactly 3 months later, on my birthday to see if she was still there. 
There's really no greater feeling than the thing you hoped to find staring right back at you. However when it's locked in through a massive pile of fabric, it begins to feel like a rom-com where the two protagonists just can't seem to get it together. By a strike of luck, there was a random chopped piece just hanging outside of the stockpile. This place has a 20 yard minimum purchase. YOU NEVER FIND A RANDOM 3 YARD PIECE JUST HANGING OUT! It was a sign. 
I don't think I've ever run home as fast as I did that day and proceed to make a dress with absolutely no pattern. I threw it down, measured out the width, drew in a neckline and started cutting. Threw some sleeves on. Whittled those down and bam. She was a direct descendent of this Norma Kamali sample I had for YEARS that had the coolest progression of a black and white stripe from black on the right to white on the left. I've not a single photo of her and she ended up a casualty when all my clothes were stolen in the cross-country move. My earnest attempt to immortalize her for my birthday dress. 
 I thought <this> was it. But I knew there was something more when I found this fabric. A story was starting to unfold. Along with this new friend I found as well. 
Fast forward 9 months and here we are. With "normal" brands, they have an excess of fabric to be able to test multiple designs. With the smaller quantities I find, it's a high-pressure of "one shot" that I do place on myself as I don't want to waste beautiful fabric on "I wonder if this will work". 
This collection initially started off with 13 bodies and 7 fabrics. Insanity. 
But as a story began to unfold, so did the images. 
2015 me. I coined this "Run DMChic". I was OBSESSED with that coat. With pattern mixing black and white. It felt textured, layered, different while being completely accessible and easy to wash while working out of town. 
Somehow seeing this version of me reminded me of 
which became the Glam Muu. 
I pulled her out, inspected her, went after that neckline and the first round left me feeling good
. Then the crowd weighed in and she left me feeling fab
.
The name Beal came screaming as all I could think of was 
Pretty soon the original plan for the jacquard fabric wasn't going to be good enough. The tuxedo collar started screaming. And before I knew it, I was shrieking with excitement for the final results!
It's been whittled significantly but appropriately as these two pieces and in particular, these two fabrics are screaming for all of the attention. A departure from the norm, for sure, but after putting 5 years into this adventure already, it truly feels like a new era for Under the Muumuu and a new level for me as a designer. I hope you love these two as much as I do. 
Cheers!
Lu